Ablutions (1972)
Suzanne Lacy, Judy Chicago, Sandra Orgel and Aviva Rahmani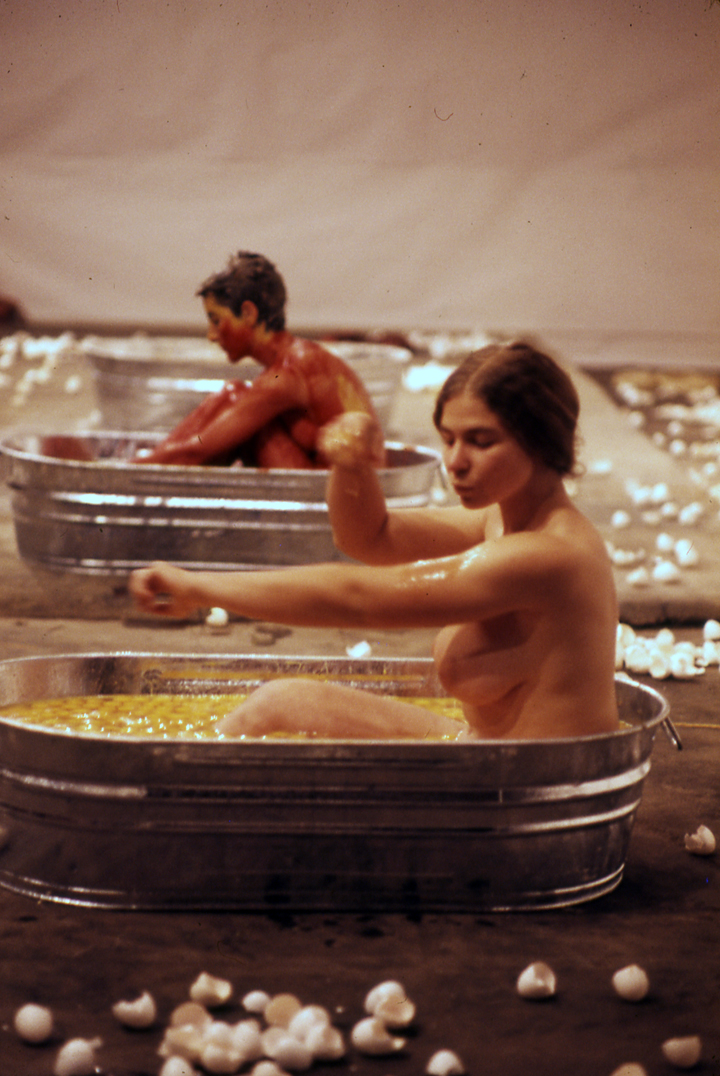 This performance began with Lacy and Rahmani's earlier explorations of rape in their different practices—Rahmani in performance and Lacy in an artist's book, Rape Is. The project was a true collaboration between all four women, teacher and students, with each contributing images and ideas for the final production. Lacy and Chicago audio recorded experiences of women who had been raped. Orgel's performance image of bathing in eggs was expanded to include blood and clay. Chicago's bandaging image was added, and Lacy's use of animal organs also included. Other women added images of chains as hair, wrapping in sheets, and so on.
The audience entered a large open art studio, drawn by Chicago's visibility and her social network. Three body-sized galvanized metal tubs on the concrete floor were each filled with a different substance—eggs, blood, and clay. Around the tubs broken eggshells, piles of rope and chain, and animal kidneys were strewn. The soundtrack played continuously, one woman after the other telling the intimate and explicit details of their rapes—information not part of public culture at that time. A nude woman was slowly bound from feet to scalp with gauze bandages while two others bathed in the tubs, first eggs, then blood, then clay. As each one emerged from the final tub, caked with clay cracked to reveal rivulets of blood, and was wrapped like a corpse in a sheet. Throughout the performance, Lacy nailed 50 beef kidneys to the wall, encasing the room like a spinal column sur- rounded by its organs. The performance ended with two women—Lacy and Jan Lester, the bandager—stringing light rope over the set, until the performance stage was a spider web of entrapment. The voices on the tape droned on as if there was no escape from the brutalization, ending with the audio tape stuck on a chilling note, repeating like a broken record: "I felt so helpless, all I could do was just lie there."
Performance self-produced in the studio of Guy Dill, Venice, California.